Waste Management - Berlin, WI location
888-960-0008
PLEASE REFER TO THE TOWN'S LATEST NEW POST FOR CHANGES TO THE PICKUP SERVICE. LINK BELOW. https://townofoshkosh.com/garbage-recycle-carts-bins-are-coming/
Trash Curbside pickup is weekly on Mondays.
Recyclable pickup is every other week on Mondays. Please follow the recycle calendar based on your address.
Please have the garbage and recyclables out at the roadside/street by 6:00 a.m.
National holidays may push the curbside pickup to the following day. Please refer to the Waste Management calendar for exact dates.
Click on image to save or print calendar
for 8 1/2 x 11 print, click here

Magnet calendars are not offered this year.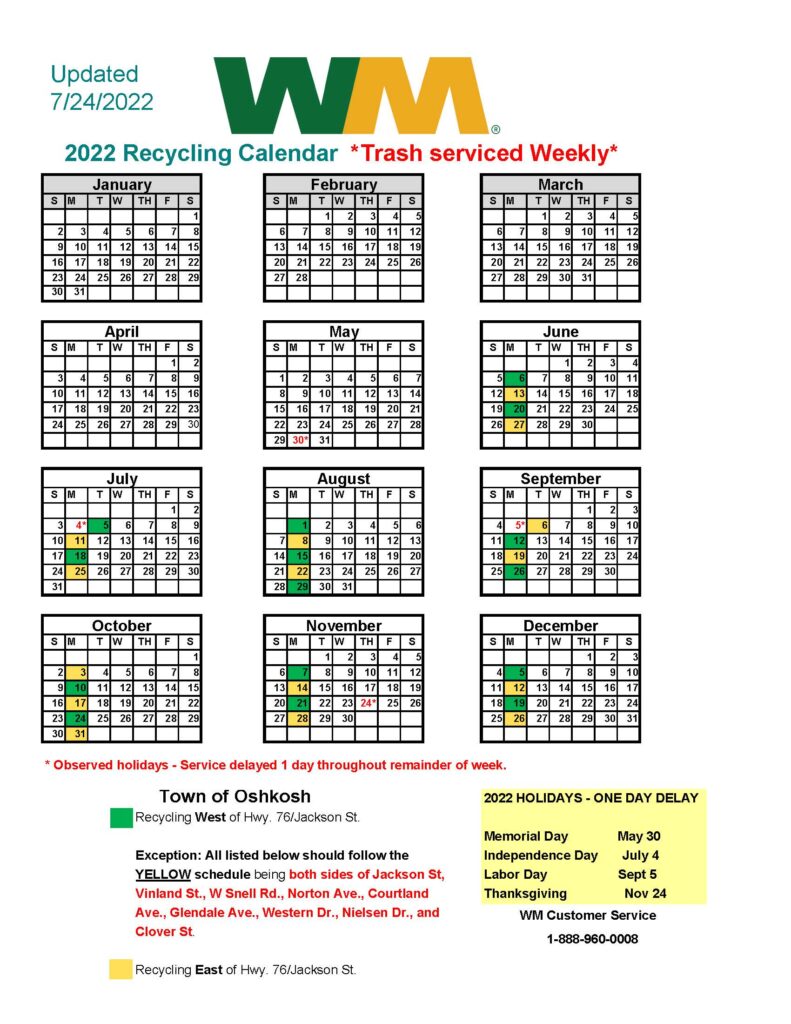 Plastic
---
Accept:
Soda, Water & Other Drink bottles

Food & Household Bottles, Jars & Jugs

Dairy Containers & Lids

Produce, Bakery & Deli Containers
 Do Not Accept:
No Plastic Bags, Wrap or Film

No Motor Oil Bottles

No Styrofoam
Guidelines:
Remove all screw caps & discard

Rinse bottles & jugs
Aluminum & Steel
---
Accept:
Aluminum Cans & Bottles

Steel, Tin & Bi-Metal Cans

Empty Aerosol Cans
Do Not Accept:
No Aluminum Pans or Foil

No Empty Paint Cans
Guidelines:
Rinse cans & bottles

No need to remove labels
Glass
---
Accept::
Food & Beverage Bottles and jars
Do Not Accept:
No Windows, Ceramics or China
Guidelines:
Rinse bottles and jars

Metal caps and lids should be recycled, discard plastic caps and lids
 Accept:
Milk, Juice & Soup Cartons
Cardboard & Paperboard (cereal box)
Newspaper & Inserts
Junk Mail & Office Paper
Phone Books, Books, Magazines & Catalogs
Shredded Paper (put in brown paper bag & staple shut)
 No Not Accept:
No Tissue
No Paper Contaminated by Food or Grease
Guidelines:
Flatten and cut cardboard to no larger than 2′ x 2′ pieces
---
Yard Waste Drop Off Site
Winnebago County Solid Waste
100 W County Rd Y, Oshkosh WI
920-232-1800
website, how and where to dispose of recyclables
---
Town Wood Chip Operations
Available to town residents only!
Drop off at town hall, Saturdays only between 9am and 12pm, April through October. Branches-brush must be 3″ in diameter or smaller. Chips are free for the hauling.
---
Composting
2015 Composting Guide - Get Started
---
Top 5 Recycle Questions:
What plastics can I recycle?

Should I remove my bottle caps?

What do I do with plastic bags?

Can I recycle aluminum foil and pie pans?

What should I do with shredded paper?
View the answers in this guide below:
Electronics/Appliance
Drop Off Sites
A fee for drop-off and/or pick-up may apply.
Winnebago County Solid Waste
100 W County Rd Y, Oshkosh WI
920-232-1800
website
Miller Scrap Removal
920-379-2517
website  appliances, batteries, cars, computer, heavy machinery, trailers, anything metal - free
Best Buy
1550 S Koeller St, Oshkosh
920-424-8079
Goodwill Industries
1600 W 20th St, Oshkosh - 920-233-3897
1735 Bowen St, Oshkosh - 920-968-0304
Habitat for Humanity ReStore
1640 S. Koeller St, Oshkosh - 920-230-3535
Milwaukee PC
1040 W 20th Ave, Oshkosh - 920-233-4706
Office Depot
1910 S Koeller St, Oshkosh - 920-231-6933